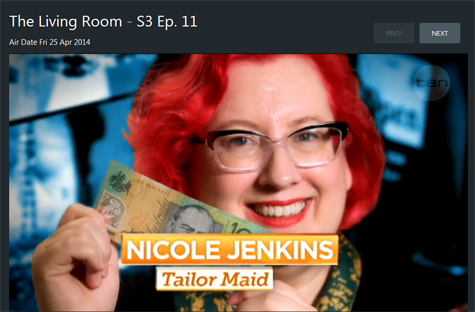 Screen shot from "The Living Room" Channel 10, screened April 25th, 2014
Newspapers and Magazines
The Age "Melbourne's Fashionistas tell the stories behind their favourite clothing" by Janice Breen Burns, Feb 7 2015
The Guardian "In Praise of the Sleeve" by Nicole Jenkins, Dec 22, 2014
West Australian "A Good Vintage" by Pip Christmass, interview Dec 10, 2014
The Guardian "How to wear: stockings in summer", by Nicole Jenkins, The Guardian, Dec 2014
The Age "Retro clothes at Circa Vintage always in fashion" by Suzanne Carbone, Nov 2014
The Age/Sun Herald "Retro costume events bring vintage fashion to life" by Caroline Gladstone, Nov 2014
Green Lifestyle magazine, "The Cost of Vintage" by Tanya Ha March-April 2014.
Coles Baby and Toddler magazine, Spring 2013 "Pack Away Winter" by Allison Tait.
The Glen Eira Leader, 13 August 2013 "Vintage Collections on Show", the National Trust Vintage Fashion Day at Labassa, Caulfield.
The Age, "How to get the Gatsby look" 2013
Bride Magazine summer 2012-2013 second page at Bride magazine.
The Age/SMH Good Weekend "Magnificent Obsession" Lee Tulloch 2012.
The Australian, "Melbourne by book or by cook" 2012.
The Age, "Introducing Gertrude, the hippest name in town" 2012.
The Age, "A journey through the warp and weft of time" 2011.
The Age, "Mad about vintage fashion, food and fun" 2011.
Review of "Love Vintage", The Examiner, 2010
The Age, "Buying old school style" 2009.
The Age, "Funkier than thou" 2008
The Herald Sun, "Picking a Vintage Look" 2012.
The Herald Sun, "Art Deco to go" 2008.
The City Weekly, interview in The Grid 2012.
G magazine, "Guide to Vintage Fashion" by Emma Bowen, 2011s
X-press magazine, interview by Emma Bergmeier 2010.
Frankie magazine 2010.
Frankie magazine 2008
Television
Mornings, Channel 9, 2014 talking about celebrity vintage style.
The Living Room, Channel 10, 2014 – season 3, episode 11 screened April 25th
Formal Wars, Channel 7 2013 – episode five.
ABC Collectors, swimwear 2009.
Radio
Discussing making the best of your wardrobe with Cath Keneally on Arts Breakfast, Radio Adelaide, Dec 13, 2014
3AW discussing fashion on Denis Walter's afternoon show, Dec 10, 2014
ABC 774 discussing 1970s fashion with Red Symonds on his morning show 2011
ABC Radio National "Discussing the Retro Trend" with Paul Barclay, Nicole Jenkins, Maggie Alderson, Andrew Shapiro and Candice DeVille. 2011
3RRR fm
ABC "Coodabeen Champions" 2010 – podcast 2011
Online magazines and blogs
Highlights of the VAMFF Cultural Program by Lady Melbourne, Feb 2015
Nora Finds blog, Jan 2015
Review of "Style is Eternal" by Sarah, Zinc Moon blog, Dec 2014
The New Daily Ultimate Christmas Book Gift Guide – including Style is Eternal
Interview for "Style is Eternal" by Georgina Hore, Glam Adelaide, 2014
Excerpt from "Style is Eternal" in TheVine, 2014
Style is Eternal, review by Amelia Mills at Melbourne.Arts.Fashion, 2014
Style is Eternal author talk Berkelouw, by Sydney Flapper, 2014
Interview with Alternative Walking Tours, 2014
Dress, Memory book launch at Circa Vintage by Esme and the Laneway, 2014
Lost at E Minor blog 2014
Lady Melbourne on a Vintage Walking Tour of Melbourne, 2014.
Fabulous Femme visits Circa Vintage – 2014.
Zinc Moon visits Strictly Vintage – and Nicole's talk on '20s fashions 2014.
The Urban List – Melbourne's Retro Gems 2014
Weekend Notes – High Tea Vintage Tours 2014
Vintaged 2014
The Urban List, Melbourne's Best Vintage Fashion Stores 2014 by Sarah Wilcocks
The Fashion Archives – Jenyn's Corsets (includes photos of Circa's Jenyn's corsets)
Baubles, Bubbles and Bags blog, feature on Nicole Jenkins part one 2013 Baubles, Bubbles and Bags blog, feature on Nicole Jenkins part two 2013
Mildred magazine 2013
Milk Bar magazine 2012
Centurian magazine 2012 by Cleo Glyde
Oh What You Missed blog 2012.
Drama of Exile blog 2012.
Vintage Melbourne blog 2012.
Lady Melbourne blog 2012.
House of Turtle blog 2012.
Broadsheet magazine.
Yelp
Time Out Melbourne magazine.
WOMO – World of Mouth Online.
Interview by Pam of Glamoursplash 2009.
"Love Vintage" book review by Candice of Super Kawaii Mama 2009.
Interview by Candice of Super Kawaii Mama 2009
Vintage Melbourne 2011.
"Love Vintage" book review by Bowerbird Vintage 2009.
"Love Vintage" book review by Elizabeth P Thimble, 2010
Jimmy America 2010.
The Fashion Birdcage, interview with Louise of Catwalk Creative 2009.
Cherrie magazine fashion editorial 2009.
The Design Files, Circa Vintage and Gertrude St shopping guide.
Violet LeBeaux blog 2010.
Underground Melbourne blog 2007.
….a lot more to come!