Welcome to my vintage shop Circa Vintage – here you will find almost two hundred years of Australian fashion. We're based in Melbourne and the webshop features the largest online range of vintage fashion in the country.
The shop opened in Fitzroy's Gertrude Street in 2004 and relocated to the city in 2012, with a salon on the first floor of the beautiful Art Deco building "Mitchell House". In 2015 the retail salon closed to make way for an expanded webshop, soon to be the largest in the world.

You can see me here in the background – I'm the one with the pink bob. Becky Lou's wearing a late '30s floral cotton voile tea gown.
I love fashion, and I've been collecting and restoring vintage since 1980. I'm a trained costume designer and have worked in hair, make up, wardrobe and art direction in film and theatre, as well as many years in the fashion industry. Before I set up my shop I also worked in the telecommunications/IT industry so you could say I believe in mixing the best of the old and new worlds!
My first book "Love Vintage" was published by Carter's in 2009 and won a bronze medal in the International Independent Publisher's Awards. It's now sold out but try your local library as they may have a copy, or second hand bookshops.
My second book "Style is Eternal" is now available, through Melbourne University Publishing and shows you how to make the most of your modern wardrobe, mixing styles and ideas from previous eras to create different looks.
I love to talk about my passion and you can book me for talks, workshops and other things: see here for a list of some of the ways I can be of service.
Most vintage garments and accessories at Circa have been cleaned and restored to their original glory so they are ready to wear. Some older garments are not cleaned if they're too old or fragile nature, as they are more suitable for collecting than wearing.
Hope you enjoy my blog!
Nicole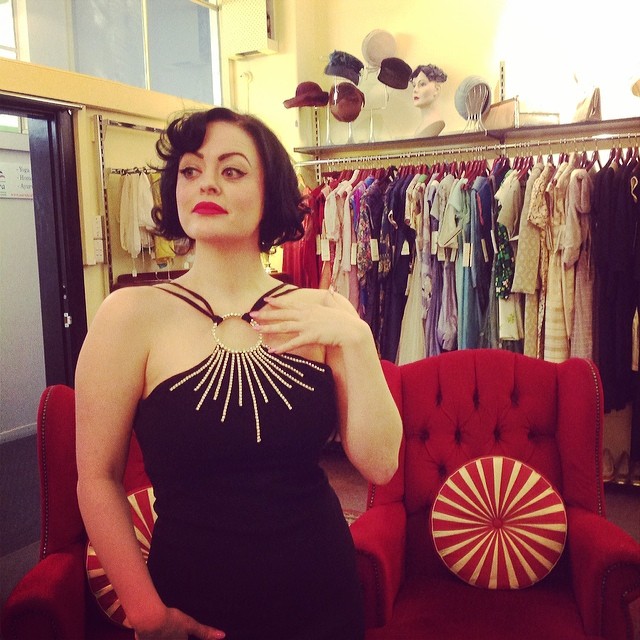 Model Becky Lou in '60s diamante evening gown.
All original images and text (unless otherwise indicated) remain the property of Circa Vintage. Please request permission before using any images or text. Thank you.
Website administration by Tim Hamilton. Web design by Red Pepper Graphics.